Tuesday 7th February- Sunday 26th February 2023
Welcome to the Eden Hore Central Otago story. Here, in the empty majesty of the Central Otago high country, Eden Hore's astonishing activities as both a farmer and a high fashion impresario open up a realm of visionary and often enigmatic creativity and inspiring possibilities – for us all.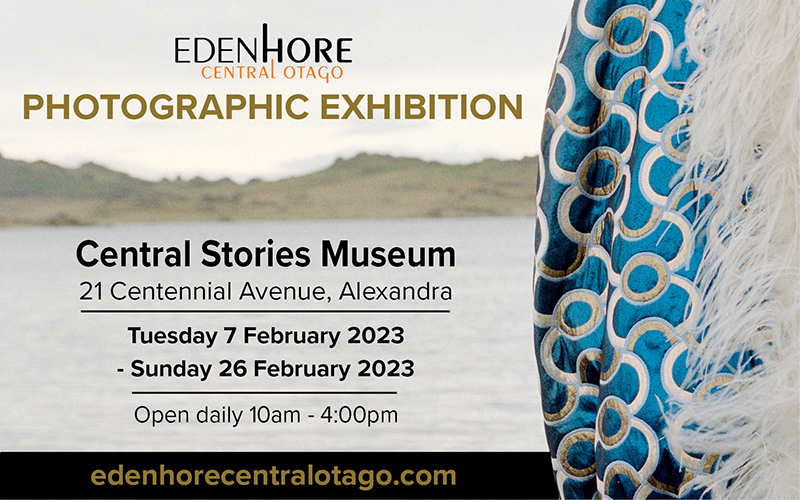 Eden Hore (1919-1997) came from a long-line of Central Otago high country farmers. He excelled as a farmer and was a very successful businessman. He was entrepreneurial; regarded by many as one of the best of his generation.
But there was a LOT more to him. Just like the vast, 'empty' and everchanging landscape around him, his spirit was endlessly elusive, restless and mercurial. A hard-working visionary, his passions ranged across an extraordinary range of fascinations and pastimes.
Not least of his endeavours was the rapid growth of the largest collection of (astonishing) haute couture 1970s and 80s fashion in New Zealand. Eden assembled over 270 gowns, primarily by New Zealand's leading high-fashion designers. The story of this expansive and magical collection of ,high fashion, and its location in the isolated and raw high country of Central Otago, are at the heart of the Eden Hore Central Otago initiative.
Today, the fashion collection is safely in the hands of the hands of the Central Otago District Council and managed by the Eden Hore Trust. The Eden Hore Central Otago initiative is focused on telling this extraordinary story in ways that tap into the elusive interwoven spirit of the man and this region – and keep it alive. Under the careful eye of the Eden Hore Central Otago Steering Group, an ambitious programme of projects is planned. A number have already been achieved, including internationally celebrated New Zealand Kiwi photographer Derek Henderson's photographs of model Hannah Clarke wearing dresses from the collection in dramatic Central Otago locations. These already-iconic photographs (a limited edition is available for sale) formed the backdrop for an exhibition of selected garments, video and photography at The Dowse in December 2021 – the first presentation of Eden's collection and story outside of the South Island.