Hanna
At Central Stories Museum and Art Gallery on Tuesday 14th March.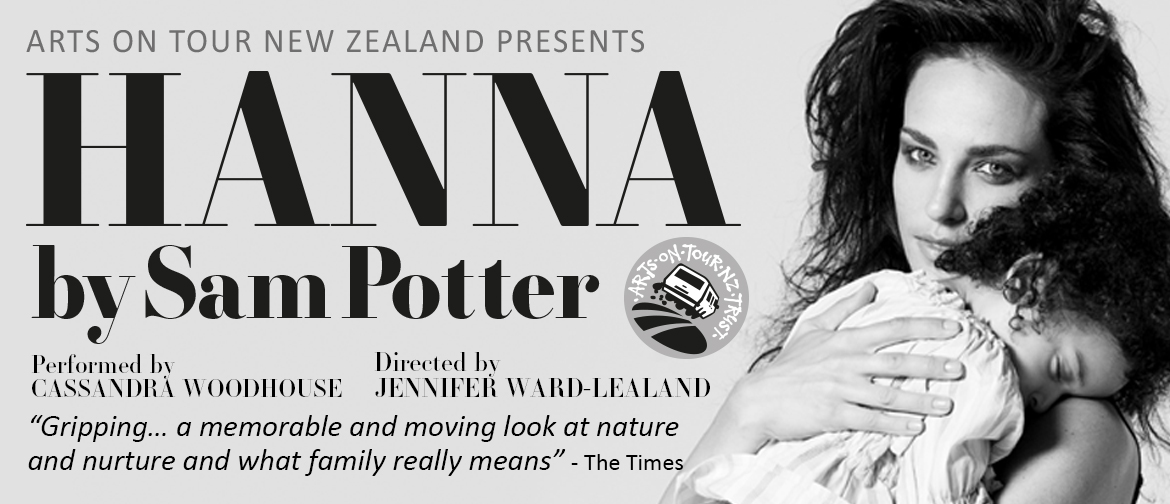 Tickets $30.00
Purchase at Central Stories, 21 Centennial Ave, Alexandra or ring Central Stories and purchase tickets over the phone.
Food, ice creams and drinks (Soft drinks, juice & Central Otago wine and beer) will be available to purchase for this event.
Jennifer Ward-Lealand directs Cassandra Woodhouse in the acclaimed one woman play, Hanna, by Sam Potter.
Being a young mum is supposed to be hard – but for Hanna, the only thing she's ever been brilliant at is raising her beloved daughter, Ellie. But then a DNA test reveals staggering news: Ellie is not Hanna's child – and now her 'real' parents want to meet.
Is Hanna obliged to let these strangers into her daughter's life? And how do you explain a mix-up in an overstretched maternity ward to a three-year old? Forced to question what being a parent really means, she makes a drastic decision that will change all their lives.
Sam Potter's funny, heartfelt and compelling one-woman play, Hanna delicately weaves in questions of racial identity, economic privilege, and the lottery of birth – and asks: what does "family" actually mean in today's society?
Premiering in London in 2018, and proudly presented by NZ Theatre Company in its Auckland premiere, Hanna will be the first for the company, whose aim is to bring professional productions into community theatre spaces.
Director – Jennifer Ward-Lealand Te Atamira
Since training at Auckland's Theatre Corporate, Jennifer has worked extensively in theatre, film, television, musical and radio for 40 years. She is also a trained Intimacy Coordinator for stage and screen.
Jennifer was a founding board member of the Watershed Theatre and a co-founder of the drama school, The Actors' Program. She is President of Equity New Zealand (since 2007), Patron of Q Theatre, Theatre New Zealand and Te Manu Tīoriori Trust and serves as a trust board member of the Actors Benevolent Fund.
In the 2007 New Year's Honours List, she was named an Officer of the New Zealand Order of Merit (ONZM) for services to theatre and the community. In 2018 she was named SPADA Industry Champion and in 2019 New Year's Honours List, she was named a Companion of the New Zealand Order of Merit (CNZM) for services to theatre, film and television and presented with a Woman of Influence Award (for arts and culture). Most recently, Jennifer was honoured as the Kiwibank New Zealander of the Year 2020.

Actress – Cassandra Woodhouse
Cassandra has been in the entertainment industry for 18 years. Having worked professionally on stage, film and as a model, Cassandra is passionate about creating a company that supports, develops and sustains the arts. A strong advocate of mental health Cassandra is committed to establishing an environment that promotes the wellness of artists and society through strong, conscious storytelling and providing employment opportunities that enable artists to feel supported, sustained and through which the consistency of paid work can hone their skills and artistic careers.